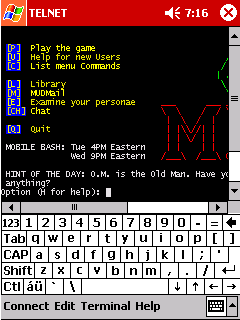 Pocket TELNET for the PPC is a telnet client program for Windows CE-based pocket PCs. It is similar in functionality to the telnet client program found in Windows 95/98/ME/NT/2000, with one important difference: it provides better support for advanced character attributes, including color text.
This page is for the version of Pocket TELNET that runs on pocket PCs (these are typically Windows CE devices without a full keyboard and a portrait-style screen, as well as Windows CE smartphones.) A version for handheld PCs is also available.
Pocket TELNET has the following features:
Near complete VT100 emulation
ANSI color attribute support
Adjustable screen buffer size (up to 99 lines)
Adjustable font, text size, and default color for improved readability
File logging capability
Windows clipboard (copy and paste) support
Full screen mode
Optimized screen updates for fast, responsive operation
Can be started from the command line
Integration with Internet Explorer: enables telnet links (telnet: URLs) in Web pages (full installer only)
Installation Instructions
Pocket TELNET PPC was written originally for the ViewSonic V37 Pocket PC. It has also been tested with the NAVMAN PiN 100 GPS device. A full installer is provided for these systems. This installer runs on the host PC and installs the program via ActiveSync. For convenience, individual CAB files are also provided for users who do not have ActiveSync installed: these can be downloaded directly to the device and installed there.
IMPORTANT NOTICE: The unregistered version can only connect to mud2.com. This should be sufficient for testing. You must change the port number from the default (telnet) to the numeric value (27723), due to a recent change at mud2.com.
Downloads
Pocket TELNET is a commercial application. The unregistered version can be used only to access mud2.com, the Internet's best multi-user text game. Registration costs USD 14.95. Once you register Pocket TELNET, you'll receive an unlock key in e-mail that will enable full functionality of the application. The registration key is valid for all versions.
Registration fees are accepted via PAYPAL. Click on the PAYPAL logo below to send payment:

 

 

Once a license key is issued, the registration fee is not refundable.

 

Please note that a keyboard or equivalent device is required in order to enter the registration code. Alternatively, if you can edit the Registry on the target device, please refer to the instructions at the bottom of this page.

 

If you'd like to purchase a registration key for Pocket TELNET but are unable or unwilling to use PAYPAL, or if you'd like to inquire about site or volume licensing options, please send an e-mail to vttoth@vttoth.com for assistance.
Notes
Pocket TELNET is a Windows CE application that has been tested for compatibility with the ViewSonic V37 and the NAVMAN PiN 100 GPS. A user reported that the program runs well on a Siemens SX-66 Pocket PC 2003 smartphone.
Pocket TELNET does not currently support the following obscure TELNET and VT100 features:
TELNET linemode option (all user input is sent immediately to the remote server)
Hidden and blinking text attributes
VT100 line wrap option (always on in Pocket TELNET)
Set/clear custom tab stops
Screen scroll command
Print command
Define key command
A keyboard or equivalent device is required in order to enter the license key. Alternatively, it is possible to enter a license key if your device lacks a keyboard but you have the ability to edit its Registry or execute a file containing Registry entries. After you receive your license key, add the following Registry entries on the device:
[HKEY_LOCAL_MACHINE\SOFTWARE\vttoth.com\PocketTelnet]
"ProductKey"=dword:1234abcd      <--- REPLACE WITH YOUR REGISTRATION KEY (8 hexadecimal digits)
"Registrant"="your@email.com"    <--- REPLACE WITH YOUR REGISTRATION E-MAIL
To emphasize, these are registry entries on the target Windows CE device, not on any host (desktop, laptop) computer to which the device may be connected.
---
accesses to this Web page since December 28, 2001.